True altos are pretty rare because there are not many people whose voice sits between the soprano and the tenor. But the few altos that the world has are quite a magnificent lot. I'll discuss the top 20 most famous alto singers in this article.
The most famous alto singers the world has ever seen and heard are the following:
Ella Fitzgerald
Gladys Knight
Karen Carpenter
Cher
Liza Minelli
Patsy Cline
Bonnie Raitt
Toni Braxton
Adele
Mariah Carey
Norah Jones
Tina Turner
Etta James
Tracy Chapman
Annie Lennox
Fiona Apple
Billie Holiday
Diana Krall
In the opera, the true alto will be categorized as a contralto. The range of alto is the lowest range of the female voice. Most women are high-pitched when they talk and when they sing.
That is why a true alto is very rare. The notes a true alto can sing are full of volume and are very luscious, just like that of a male alto singer.
Read on to learn more about the most famous altos our world has ever seen and heard, along with some interesting details you will know for the first time.
18 Most Famous Alto Singers Ever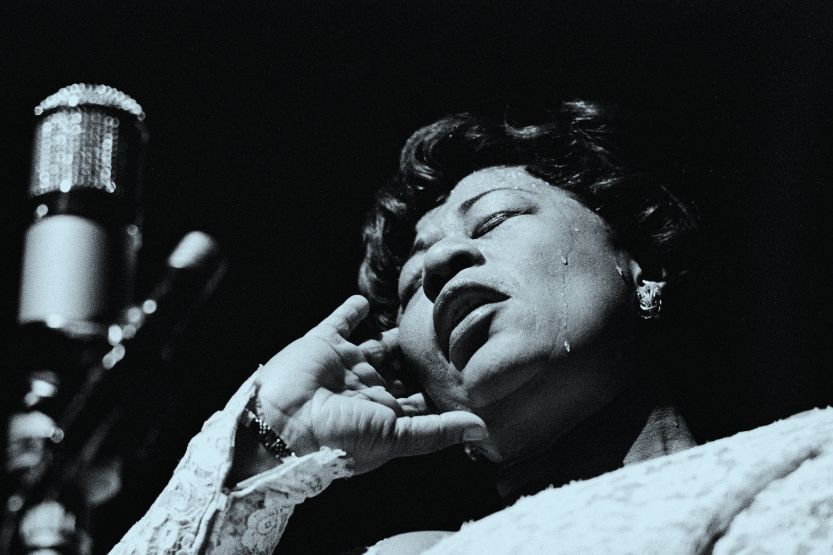 Generally, alto parts are the lowest notes or voices that women can sing. As we all know, women typically have high-pitched voices. That's why it is very rare to find a true alto.
Most singers who are altos and choir members are mezzo-sopranos. That's also why the alto is considered the second-highest female voice. With that said, you can now better appreciate the altos that I will discuss for the rest of this article:
1. Ella Fitzgerald
One of the most famous female alto singers is Ella Fitzgerald. She was considered by many during her time the "First Lady of Song." She was also called "Lady Ella" and the "Queen of Jazz."
Fitzgerald also started her singing career as the vocalist of the Chick Webb Orchestra in their native Harlem. When Webb died, she took over the leadership of the orchestra.
However, she later left the band to pursue her solo singing career. Her unique singing style, using her beautiful and full alto voice, was the reason for her success.
She popularized the song "Dream a Little Dream of Me." You can hear the alto voice of Ella in this video.
2. Gladys Knight
Gladys Knight had her first start as a singer in a church choir when she was still a kid. She also competed in amateur singing contests on TV. Now, she is a powerful R&B singer known as the "Empress of Soul."
In 1955, she co-founded The Pips, later known as Gladys Knight and the Pips. They first toured all the places in Atlanta and won several talent shows, and soon etched a name for themselves.
With their record "Every Beat of My Heart," Gladys and her group reached number 6 on the Billboard Hot 100. Then in 1966, Gladys and her group signed up with Motown Records.
They soon became one of Motown Records' leading names. If you want to hear Glady's alto voice, view this video.
3. Karen Carpenter
As a teenager back in the 1970s, you probably heard of The Carpenters. They were one of the hit-making groups during that decade. And that was because of the mellow, full, sweet, and very distinct voice of Karen Carpenter. Most of her hits are songs for alto singers.
Karen's voice range is three-octave contralto which is unique. With her brother, Richard, Karen signed up with A&M Records in 1969. They made many songs that became big hits all over the world. 
Unfortunately, Karen was afflicted with a little-known disease then, anorexia nervosa, and succumbed to it when she was just 32 years old.
Her appearance in the 2010 list of Rolling Stones' 100 greatest singers is a testament to Karen Carpenter's beautiful and unique alto voice.
Among Karen's most popular hits are "Top Of The World" and "Goodbye to Love." Karen's very distinctive alto voice is prominently displayed in this video.
4. Cher
Cher is another singer with a beautiful alto voice. This female alto singer started in the music business when she paired up with her then-husband Sonny Bono.
They formed the group, Sonny and Cher. As a duo, they were able to sell 40 million records. But they later split up in their careers as well as in their marriage.
Cher is now more popularly called the "Goddess of Pop." Her alto voice and her singing style were the keys to her success. She also collaborated with other singers like Peter Cetera and others to make hit songs after she went on her solo career.
She also took her chances in Broadway and Hollywood films and earned commercial and critical success. You can hear Cher's strong alto voice in this video.
5. Liza Minelli
Liza Minelli is one of the most powerful altos in the music and film industry. She was born to a show business family, the daughter of singer and actress Judy Garland and stage and film director Vincente Minnelli.
Liza started her career in music singing as a musical theater performer and nightclub singer. She also starred in the immensely successful film "Cabaret."
She got awards from the most important award-giving body in the US entertainment business, such as the Oscars, Emmy, and Tony.
6. Patsy Cline
Patsy Cline is considered one of the most influential vocalists of the 20th century. She recorded several hit songs on US country music charts during her time. She started her musical career singing on a local radio station when she was a teenager.
Patsy's voice was described as bold contralto. She was able to show her emotions through her voice alone. Unfortunately, her singing career was cut short when she died in a plane crash. She was only able to enjoy her career for three years.
7. Bonnie Raitt
Bonnie Raitt, another singer with an alto voice, is multi-talented. Raitt can sing, play guitar, produce music, write songs, and is a political activist. She put her talents in different genres, combining blues, country, and rock elements in her songs.
She made a hit album in 1989 titled "Nick of Time" and was able to release several hit songs after the success of her album. Her well-known singles include "I Can't Make You Love Me" and "Something To Talk About."
8. Toni Braxton
Another alto singer with a powerful low voice is Toni Braxton. She is a multi-talented artist, not just a singer but also a pianist, songwriter, and actress. For her artistic talents, she has won many awards.
Toni started her musical career as a member of The Braxtons and signed with Arista Records. She started her solo career and made a hit album immediately, reaching number 1 in several categories.
She has won multiple Grammy Awards, and her most popular singles include "Breathe Again" and "Another Sad Love Song." Toni also collaborated with other music artists and has continued success for many decades in her musical career.
9. Adele
Adele's voice also belongs to the alto range, so she is perfectly qualified to be one of the alto singers gracing our airwaves. Her singing career started when she made her debut album "19."
The album has unforgettable songs such as "Chasing Pavement," which helped launch her singing career. She is regarded as one of the best-selling musical artists of our time. Every album she releases makes new hits.
Her alto voice seems to resonate with so many people around the world. Some of her hits that were most liked include "Hello," "Rolling In The Deep," and "Skyfall."
10. Mariah Carey
You can say that the singing career of Mariah Carey started when she was born to an opera singer and vocal coach mother, Patricia. So, during her childhood, Mariah was already practicing opera. She learned how to sing alto with a very extensive range.
So, now, she has a five-octave voice range. Her first five singles were hits, with all of them reaching number one on the Billboard Hot 100. No musical artist had achieved this record before Mariah entered the music scene.
With hits songs like "Always Be My Baby," "Emotion," and "Vision Of Love," Mariah Carey remains to be one of the most loved alto singers of our time.
11. Norah Jones
One of the top-selling jazz artists of the early 2000s is Norah Jones, another singer with a distinctive alto voice. Her alto voice is unique because it is soft and perfect for low-key settings such as coffee houses.
Norah Jones also started singing in a church choir when she was still young. She studied music later on to hone her natural gift. Norah always knew that music was her path while still young and pursued it with dedication and energy.
As a successful singing artist, Norah Jones has made several albums that reached platinum status. This means her albums have sold millions of copies. Her most memorable hits include "Don't Know Why" and "Come Away With Me."
12. Tina Turner
More famous as the "Queen Of Rock' n' Roll," Tina Turner is also one of the singers whose alto voice is very distinct. She started her singing career as a member of a duet, the Ike & Tina Turner Revue.
Later on, Tina went on to make her successful solo career. Nearly every music lover will remember Tina's hit song "What's Love Got To Do With It," which reached number 1 on the Billboard Hot 100.
She was also given a Grammy Award for this song. After this, Tina went on to make more hits songs and albums and became one of the best-selling musical artists of our day. In 2009, Tina finally retired, but, interestingly, she is still relevant these days.
13. Etta James
Etta James earned a place in our list of the most famous alto singers of all time because she was regarded as one of the most popular singers in American history. Most people can still recognize her songs even if she is not with us anymore.
Her rich alto voice enabled her to win Blues Music and Grammy awards. Etta grew up in a foster home, hardly seeing her mother or even knowing who her father was. But this didn't stop her from making music even while she was still young.
She started singing at age five, albeit learning music under an overly critical music director. Etta overcame all of these deficiencies in her life and became one of the most influential alto singers during her day and even now.
14. Tracy Chapman
While she was still young, Tracy Chapman learned to play the ukulele and the guitar. Before she turned 10, she was already writing her songs. She also has a unique alto voice that she honed through the years of studying music.
Elektra Records discovered her in 1985 during her debut performance. With Elektra, her song "Fast Car" was qualified to be included in Rolling Stone's top 500 greatest hits of all time. Tracy is now a holder of multi-platinum records with several hit albums and records.
Aside from her musical career, Tracy Chapman is also known for her political activism, charity work, and philanthropy. She continues working with Make Poverty History and Amnesty International.
15. Annie Lennox
Annie Lennox is a member of the Eurythmics, of which she received critical acclaim for the songs they've written, such as "Here Comes The Rain Again," "There Must Be An Angel (Playing With My Heart," and "Sweet Dreams (Are Made Of These)."
Aside from being a singer-songwriter, Annie is also an accomplished pianist. In the 1990s, she went on her solo career, receiving critical success for the solo albums she composed and performed. Listen to Annie Lennox produce her beautiful alto voice in this video.
16. Fiona Apple
Fiona Apple also deserves to be on the list of the most famous altos this world has ever seen and heard. From 1996 to 2020, Fiona released several albums which received critical and commercial success. The US Billboard 200 chart listed them among its top 20 albums.
Fiona studied classical piano as a child. While still young, she already started writing her songs. The songs she had written when she was just 17 years old made up her debut album. One of the songs in this album, "Criminal," received the Grammy Awards for Best Female Vocal Rock Performance.
17. Billie Holiday
An American jazz and swing music singer, Billie Holiday is also an alto. During her time, she gave way to a new style of singing. The ways she sings, which is heavily influenced by pop and jazz music, opened a new method of tempo and phrasing.
She started singing in Harlem nightclubs. A record producer, John Hammond, heard her and signed her for a recording contract with Brunswick.
Billie received four Grammy Awards in her musical career and was eventually inducted into its Hall of Fame. Several Hollywood films were made retelling her life.
18. Diana Krall
Dian Krall is another singer with a strong and full alto voice, like one of the male alto singers. She was born in Canada and developed her musical talents as a jazz pianist and singer. In her musical career, Diana was able to sell 15 million albums all over the world.
Billboard magazine honored her by naming her the second greatest jazz artist of the 2000 to 2009 decade. She is the only jazz singer who has debuted eight albums at the top of the Billboard Jazz Albums.
Diana has also won three Grammy Awards as well as 8 Juno Awards. During her musical career, Diana's albums have already earned seven multi-platinum, three platinum, and nine gold.
Frequently Asked Questions
If you still have some questions about the most famous alto singers this world has ever heard and seen, perhaps you will get your answers from the ones listed below:
How Do You Define a True Alto?
In operatic singing, one who is a true alto would be classified as a contralto. This voice type is very rare and is the lowest female voice. Authentic altos can produce notes that are full of volume and yet sweet to the ears.
Are True Altos Rare?
Yes, they are rare. Most women who consider themselves altos are, in reality, mezzo-sopranos.
Is Alto Better than a Soprano or Vice Versa?
To some people, sopranos are better than altos. However, the valuation depends on who is talking. Both sopranos and altos are needed in a choir because they complement each other.
Perhaps the fact that sopranos are almost always given the melody part of a chorus makes people believe they are better.
In Closing: 18 Most Famous Alto Singers Who Ever Lived
Here are the most famous alto singers that the world has ever seen and heard:
Ella Fitzgerald
Gladys Knight
Karen Carpenter
Cher
Patsy Cline
Liza Minelli
Bonnie Raitt
Toni Braxton
Adele
Mariah Carey
Norah Jones
Tina Turner
Etta James
Tracy Chapman
Annie Lennox
Fiona Apple
Billie Holiday
Diana Krall