Disclosure: We may get commissions for purchases made through links in this post.
A common concern for many who want to learn guitar, especially bass guitar, is whether their hands are big enough to play. It's true that bass guitars are generally bigger than regular guitars, but there are many that have skinny necks and a compact size.  
What is the best bass guitar for small hands? The best bass guitar for small hands is an Ibanez, e.g., the Ibanez GSR Series, because they tend to have skinnier necks. Other brands that make excellent bass guitars for small hands include Sterling by Music Man, Stedman, and Fender.
Read on to learn more about the best bass guitars for small hands, as well as tips and techniques for playing bass with small hands.
Also, for an excellent bass guitar for small hands, take a look at our top pick, the Ibanez GSR200TR Bass Guitar:
Click here to see it on Amazon.
What Are the Best Bass Guitars for Small Hands?
1. Ibanez GSR200TR Bass Guitar
The Ibanez GSR200TR Bass Guitar features a maple neck and the option for 5 different distinct colors. It weighs only 9 pounds and measures 40 inches x 3 inches x 12 inches. It has medium-sized frets and a thin neck that is easy and comfortable to hold.

Click here to see it on Amazon.
Ibanez is my first choice for anyone who asks to recommend a lightweight bass or if they have small hands. It has excellent sound at an affordable price, is light, compact, and has skinner necks than many other bass guitars.
2. Ibanez GSRM20BS Bass Guitar
The Ibanez GSRM20BS Bass Guitar has a skinny neck, is slim and lightweight, which is perfect for players with small hands. You can conveniently grasp its slim neck and play comfortably.
Click here to see it on Amazon.
It weighs only 6.9 pounds and measures a thinner – 39 inches x 11.5 inches x 2.3 inches – body. This smaller size makes it more comfortable and convenient to manipulate and play for someone with small hands.
The Ibanez GSRM20BS is made of quality material that can withstand the daily wear and tear of guitar playing. Its scale is shorter too, only 28.6 inches.
The below video shows 7-year old Aron Hodek (with small 7-year-old hands!) playing the Ibanez GSRM20.
3. Sterling by Music Man StingRay Ray4 Bass Guitar
The Sterling by Music Man StingRay Ray4 Bass Guitar is a high-end but still affordable bass guitar, considering its awesome features.
Click here to see it on Amazon.
The body is made of sturdy basswood with a Jatoba fretboard and a smooth neck built with long-lasting maple material. The stunning StingRay design comes in a variety of vibrant colors, such as black, blue, white, brown, and ruby red.
It measures 45 inches x 1.5 inches x 13.5 inches, a little bit larger than the Ibanez bass guitars, but weighs almost the same – at 9 pounds. The body is made of basswood and provides a hardtail bridge system that offers comfort and convenience for beginners.
Like Ibanez, Sterling bass guitars are more compact and smaller than many other bass brands. The neck is skinnier, allowing smaller hands to grip around and play more easily.
4. Glen Burton GB150BCO-BK Electric Bass Guitar Bundle
The Glen Burton GB150BCO-BK Electric Bass Guitar Bundle comes with all a beginner needs to get set up. Included is a bundle with a bag, a strap, an amplifier, and a cable.
Click here to see it on Amazon.
It's a full-sized bass guitar made of solid wood, but it's still lighter at 18 pounds than the standard bass guitars and has a narrower neck than the typical electric bass guitar.
The price is very affordable, considering the durability of the guitar's material and the set of accessories that goes with it.
5. Fender Geddy Lee Signature Jazz Bass
The Fender Geddy Lee Signature Jazz Bass is another great bass guitar for small hands with its narrow neck and lighter weight.
Click here to see it on Amazon.
Its dimensions, 45 inches x 5 inches x 15 inches, are slightly bigger than Ibanez bass guitars, but it is still smaller than many other standard bass guitars.
The smooth neck and the fretboard are made of high-quality maple material, and yet, it's pegged at an affordable price. It's single-coiled and features a Leo Quan Badass II guitar bridge.
7 Tips When Choosing a Bass Guitar for Small Hands
When searching for a bass guitar for small hands, it can be quite the task to navigate through all the options. To help you out, here are recommended tips to help you choose the right one.
1. Know How Much You Want to Spend
The first consideration is simply how much you are willing to spend. There are expensive bass guitars for professional bassists that provide upgraded hardware, rich bass tones, and excellent electronics. But, there are also cheaper ones for beginner players who want to learn the rudiments of bass playing first.
If you're a professional player, then you would, most probably, prefer the upgraded version. Alternatively, if you're an amateur bass player, still not sure whether you'd be playing for life – you would prefer the cheaper ones.
Bass guitar prices can range from $100 to more than a thousand dollars. There are many bass guitars that are excellent for beginners with great sound and are well-made to last. I always recommend for beginners to not go too high in price. The bass guitars I've listed above are at affordable price points yet still deliver great quality sound.
2. Determine the Type of Material Used to Make the Guitar
What's the material used to build the guitar? The most sturdy and durable tonewoods for the guitar's body are mahogany, maple, agathis, basswood, and ash. These are all great materials to be found in a guitar. What about the fretboard, headstock, and neck? Are they constructed well to make it easy to play and navigate?
The durability of the guitar's body is one of the primary aspects that you should take note of when choosing your bass guitar. The lower-priced bass guitars are commonly made of pressed wood and wood plies that are laminated. In contrast, the more expensive basses are made of high-vibration wood, such as mahogany, maple, and alder.
3. Check the Bass Neck
The 'thru-body' neck type is recommended as vibrations aren't inhibited. This allows the guitar to produce better sounds. This type of neck has no joint between the neck and the body. A set-neck can give off better stability and resonance; however, it's difficult to adjust, especially for beginners.
The thru-body neck is designed for professional bass guitar players. There are no attachments or joints, as the neck is part of the guitar's body.
4. Consider the Bass Guitar's Bass Scale Length
The scale length is the length from the nut to the bridge. The nut is the area between the headstock and the fretboard. The bridge is located near the tail, and it is where the strings are firmly anchored.
You may want to choose a shorter bass scale length for easy strumming and playing. The common scale length is 34 inches, but this length may vary, depending on the brand and design. 
5. Find Out What Type of Pickups the Bass Guitar Provides
The pickup captures the vibrating sounds that the bass guitar creates and transmits them into electronic sounds. The single-coil pickup is what the old bass guitars have. But they found out that the sound comes out as 'noisy'. So, they came up with humbuckers to eliminate the noise caused by the single coil. Soon, the split-coil was built to do both functions.
Therefore, you can purchase a bass guitar that features a split-coil or one that has a single coil plus a humbucker.
6. Take into Account the Number of Strings
For anyone with small hands, or simply anyone starting out with bass guitar, choose a 4-string bass guitar first. This type would be ideal for your purpose. After you have some mastery of the musical instrument, you can try the 5- or 6-string bass guitars. They have wider necks and are perfect for professional players as they can enhance the artists' creativity and range of notes.
7. Choose a Bass Guitar That Is Fretted and Has Simple Controls
A fretted bass guitar would help an amateur player see where the notes are played on the neck; on the other hand, a fretless bass guitar is suitable for pros as they can play notes without looking at the fret.
Choosing a bass with simple controls would allow you to focus on your playing instead of continuously fiddling with the knobs.
5 Tips for Playing Bass Guitar with Small Hands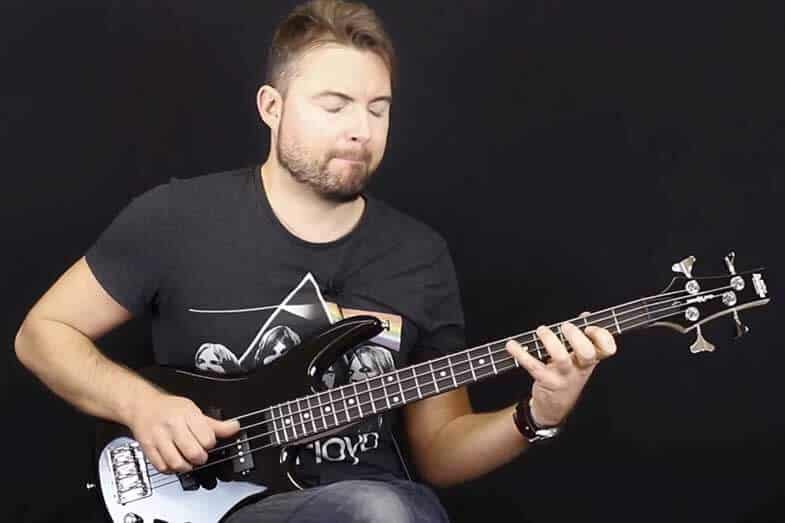 It's a fact that the bass guitar has thicker strings and is bigger than your regular guitars. However, the perception that you cannot play it because you have smaller hands is not altogether true. Playing the bass guitar doesn't have anything to do with the size of your hands.
You can definitely play the bass guitar in spite of your small hands because there are various strategies that you can utilize to do so. Here are some of them:
1. Stretch and Exercise Your Fingers and Hands Daily
Stretch and exercise your fingers and hands, just like you should do with the rest of your body, so that they can become stronger and more flexible. Athletes do so, and they are able to achieve physical feats that you may have thought impossible to accomplish.
Apply this athlete mentality to your bass playing. Think of bass playing as a type of sport, so stretch and exercise your hands before and after playing.
2. Perform Warm-up Exercises
Aside from stretching, before and after every performance, perform your body warm-up exercises on top of this. This will allow your muscles to relax, gain strength, and be more flexible.
Choose exercises that focus on your upper body parts. Naturally, include your whole body, too, as you need your lower limbs to be stable when playing.
3. Start Practicing Slowly
Experts recommend that bass players should start practicing slowly to prevent muscle strain and unnecessary stress on their bodies and mind. Practicing slowly enhances the motion or kinetic memory of your muscles, allowing you to play the bass guitar more competently when you actually perform on stage.
4. Start at the Closer Frets
Start playing the bass at the frets that are closer to each other (top of the guitar's neck area) and then working on the wider stretches down the instrument – slowly. By practicing this, your hands will gradually adjust to the physical exertion, and not be strained early on.
5. Pain Indicates You're Doing It Wrong
For guitar players, pain is an indication that you're doing it the wrong way. Perhaps, you're improperly leaning your forearm on the bass, or you're holding the bass guitar the wrong way. Assess your technique and adjust your method of bass playing accordingly. 
If you still feel pain, you may want to consult a physician to confirm that the pain is not from a more serious issue. This applies most especially when the pain is severe.
Conclusion – Best Bass Guitar for Small Hands
What are the best bass guitars for small hands? Here are my 5 top picks:
Ibanez GSR200TR Bass Guitar – Click here to see it on Amazon – Our #1 Top Pick!
Ibanez GSRM20BS Bass Guitar – Click here to see it on Amazon
Sterling by Music Man StingRay Ray4 Bass Guitar
Glen Burton GB150BCO-BK Electric Bass Guitar Bundle
Fender Geddy Lee Signature Jazz Bass Guitar
The Ibanez GSR is my top pick as it has the skinniest neck, has great sound, and is very light in weight. However, each one of these bass guitars will be a great choice for small hands as they are designed in a smaller, more compact manner than many other bass guitars.
Consider the following 7 factors when deciding which bass to choose:
Know how much you want to spend
Determine the type of material used to make the guitar
Check the bass neck
Consider the bass guitar's bass scale length
Find out what type of pickup/s the bass guitar provides
Take into account the number of strings
Choose a bass guitar that is fretted and has simple controls
Remember these 5 tips and techniques to play any size guitar:
Stretch and exercise your fingers and hands daily
Perform warm-up exercises
Start practicing slowly
Start at the closer frets
Pain indicates you're doing it wrong
Related reading:
B.C. Rich Warlock Specs and Review 
B.C. Rich Gunslinger Guitar Specs and Review
Cort G Series Guitar Specs and Review
How Much Does an Electric Guitar Cost?