Since their introduction in 1500 BC, metal trumpets have been amongst the most popular instruments. Today, they are available in a wide array of brands and models, each with its promise of superior performance. In this Jean-Paul TR-330 Student Trumpet review, I'll talk about some of its features and specs, so you can decide if this is the right trumpet for you. 
From its quality to performance, the Jean Paul TR-330 trumpet is an excellent instrument for beginners. It is affordable and user-friendly, encouraging novices to learn. Despite being economical, it has exceptional features, including its yellow brass construction and nickel and stainless steel valves. More so, the trumpet is beautiful and comfortable to use. 
Here is a quick summary of some of the TR-330's technical details: 
| | |
| --- | --- |
| Key  | Bb |
| Mouthpiece  | 7c |
| First Valve Slide  | Thumb saddle |
| Third Valve Slide  | Fixed ring  |
| Bell  | Two-piece construction, yellow brass, 4.92 inches  |
| Bore  | .459 inches  |
| Lead Pipe  | Standard taper rose brass  |
| Finish  | Golden brass lacquer  |
Read on to learn more about the Jean Paul TR-330 Student Trumpet, including its most notable features, as well as a few of its pros and cons. 
Also, for an excellent student trumpet, take a look at the Jean Paul TR-330 Student Trumpet on Amazon for its price and great reviews:
Click here to see it on Amazon.
About the Jean Paul TR-330 Student Trumpet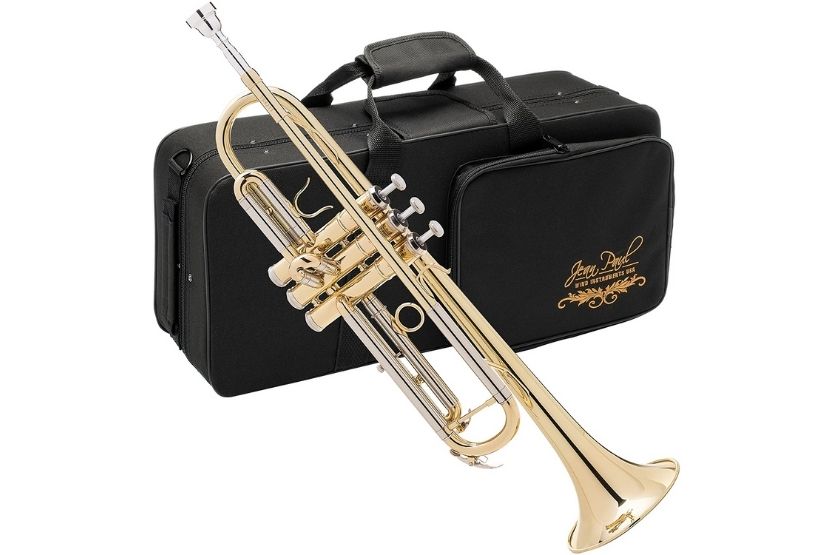 The company commenced its operations in 1994. It was then a distributor of various musical instruments from some of the biggest manufacturers in the world. They have built a solid partnership with Yamaha, and after a while, they became Yamaha's biggest distributor in Latin America. 
As it was selling instruments, the company noticed that many of them are expensive. From a distributor, Jean Paul was born in 2012. This time, it was no longer selling instruments from other manufacturers. Instead, they are making their student-level instruments, including trumpets and saxophones.
They sold their products to online retailers like Amazon, which made them lower the supply chain costs. In turn, their products became more affordable. 
While the company has a great selection of instruments, our focus is on the Jean Paul TR-330 Student Trumpet in this review. As the name implies, the latter targets novices who are looking for affordable and user-friendly products. It is unintimidating, encouraging the user to unleash the best musical performance with its use. 
Jean Paul TR-330 Student Trumpet Specs 
Click here to see it on Amazon.
To start this review, we'll list down some of the major specs of the Jean Paul TR-330 trumpet. These should give you an idea of how it will perform:
1. Key
When looking for a trumpet, one of the most important technical details is the key. The latter is critical for determining the overall sound quality. In the case of this model, it has a key of Bb. This is the most common type that you will find in a trumpet, which is also why it is great in terms of playability. 
2. Mouthpiece 
The trumpet's mouthpiece is the part where your lips are when you are playing. This model has a 7C mouthpiece. It is the standard size that you will find in the market. Such is also the reason why it is beginner-friendly. The mouthpiece isn't too large or too small, guaranteeing your comfort. 
3. First Valve Slide 
A trumpet has three valve slides. The first slide is the one responsible for lowering the highest note by a whole step. When you depress this valve, you will divert the air to lower the pitch. That said, this model has a thumb saddle first valve. The latter helps improve balance and comfort. 
4. Third Valve Slide 
Meanwhile, the third valve of this trumpet has a fixed ring. This is the valve that is farthest when you are playing. The ring is good because it improves how you hold the trumpet, allowing you to play comfortably. 
5. Bell 
The bell is the end part of the horn, which is also the largest. It has an opening, which is where the sound comes out when you are playing. It has a flare, which amplifies the sound, directing it towards the listener. The bell has a two-piece construction and is made of yellow brass. Meanwhile, it has a diameter of 4.92 inches. 
6. Bore 
A trumpet's bore size has a huge influence on how it will perform. The measurement is often based on the second valve slide's interior diameter. For the Jena Paul TR-330, the bore size is .459 inches, which is typical of Bb trumpets.
7. Lead Pipe 
It is the part of the trumpet that connects the mouthpiece to the first tube's bend. It has a large impact on the sound quality. Plus, it affects how the air travels from the mouthpiece to the bell. This model has a standard taper lead pipe, which is made of rose brass. 
8. Finish 
The trumpet has a golden brass lacquer finish. It is responsible for its aesthetically pleasing design, making it a head-turner. Nonetheless, this kind of finish is common in cheap trumpets. Sadly, it won't last long. 
Again, what does the Jean Paul TR-330 student trumpet offer? The Jean Paul TR-330 trumpet is an exceptional trumpet for beginners. Apart from this, it is also affordable, has excellent features, and is comfortable to use. Lastly, it has a yellow brass construction and nickel and stainless steel valves.
Main Features of the Jean Paul TR-330 Student Trumpet
If you are looking for compelling reasons to buy this student trumpet, below are some of the notable features that you should know:
1. Yellow Brass Construction 
It is in no way a high-end trumpet, so we do not expect top-notch materials. Despite such, it is made of yellow brass, which is pretty tough considering the material that you will find in other models within its price range. 
2. Nickel and Stainless Steel Valves 
Again, these materials are far from the best, but given the price of this trumpet, it is acceptable. Some might find the valves quite sticky, especially if you are using the instrument first. It will take quite a while before you get used to the feeling. 
3. 30-Day Return Policy 
You have 30 days to try this student trumpet without any risk. Within such period, if you are unhappy in any way, return it to the manufacturer. In turn, you will receive an unconditional warranty. It reflects how the manufacturer guarantees your highest level of satisfaction. 
4. One-Year Warranty 
To guarantee its exceptional quality, the company covers the trumpet with a one-year warranty. The original warranty is only 90 days, but you can extend it to one year if you register the product. However, note that the warranty applies only to the buyer or the original owner of the trumpet.
5. Inclusions
Aside from the trumpet, below are the other inclusions when you buy this product: 
Semi-hard case
Mouthpiece 
Valve oil 
Cleaning cloth 
Pros and Cons of the Jean Paul TR-330 Trumpet for Students 
Undecided if this student trumpet is right for you? To help you decide, this section talks about the good and the bad about the Jean Paul TR-330:
Click here to see it on Amazon.
Pros
Here are some of the things that make it a great option for a student trumpet:
1. A Great Choice for Beginners 
The best thing about this trumpet is that it is easy to play, which makes it beginner-friendly. It is for students who like to be better at playing the instrument. Even if you are a first-time user, you will love the lack of complications. 
2. Excellent Price to Value Ratio 
We have seen a lot of cheaper trumpets, but their quality is questionable. One of the best things about this model is that it is affordable, but it does not compromise in any way. With that, you can expect the best bang for the buck. 
3. Comfortable to Use 
Especially if you are using a trumpet for the first time, the weight might be a burden. Thankfully, with this model, such is not the case. With its lightweight construction, you will be happy to know that it is comfortable to play with. 
4. Has a Beautiful Design 
If you are looking for a trumpet with an eye-catching design, this is an exceptional choice. It has a gold lacquer finish, which adds to its beauty. The way it looks is sure to attract anyone who wants a trumpet with a character. 
5. Easy to Maintain 
More than being easy to use, another good thing about this trumpet is that it is effortless to maintain. Simply wiping it after every use is enough to maintain its peak performance. It is unlike others that require a lot of effort. 
6. Has a Resonate and Warm Tone 
We have seen many affordable trumpets, but their common shortcomings are that they have an inferior sound. The Jean Paul TR-330, however, is affordable while still having a warm tone. One of the reasons for the latter is because it is a B flat trumpet. 
Cons
Despite its benefits, this student trumpet also has several drawbacks, including those that I will list down below:
1. Does Not Come with a Hard Case
While it is a good thing that the trumpet has a case, it is soft. This means that it is easy for the trumpet to sustain damages if you drop it accidentally. It will have been better if the shell has a hard case, which will offer better protection. 
2. Inferior Lacquer Finish 
At first, the lacquer finish looks great, making the trumpet look more appealing. However, such isn't the case after a while. It can easily chip, which will negatively impact the overall appearance of the trumpet.
3. Lead Pipe Is Prone to Corrosion 
Aside from the lacquer finish, another component that is easily prone to damage is the yellow brass lead pipe. Rose brass is a better alternative. Nonetheless, given the price, it isn't surprising that such a durability issue is present in this trumpet. 
Conclusion: Jean Paul TR-330 Student Trumpet
Thinking of learning how to play a musical instrument without spending too much? The Jean Paul TR-330 Student Trumpet is an excellent product. It is lightweight, comfortable, economical, and user-friendly. Even if you are a first-time user, you will love how easy it is to play. It has a generous bore that influences its playability.
The features are exceptional because of the following:
Yellow brass body,
Stainless steel and nickel valves, and
30-day satisfaction guarantee.
Nonetheless, its lacquer finish might peel easily, and the corrosion in the lead pipe can be a problem. 
To recap, the table below shows some of the most important specs of the trumpet: 
| | |
| --- | --- |
| Key  | Bb |
| Mouthpiece  | 7c |
| First Valve Slide  | Thumb saddle |
| Third Valve Slide  | Fixed ring  |
| Bell  | Two-piece construction, yellow brass, 4.92 inches  |
| Bore  | .459 inches  |
| Lead Pipe  | Standard taper rose brass  |
| Finish  | Golden brass lacquer  |