From Blink 182 to Angels & Airwaves, Tom DeLonge made a mark as a remarkable musician. One of the many people who look up to his music is probably wondering about Tom DeLonge's guitar and gear. 
Throughout his career, below are the most common guitars used by Tom DeLonge: 
Gibson ES-333
Gibson Les Paul Standard
Fender Baritone Jazzmaster 
Fender Telecaster 
Fender Stratocaster 
Taylor 814CE
Guild D55 
Read on to learn more about Tom DeLonge's guitar and gear. We'll look at some of the instruments he used at the height of his career. 
Tom DeLonge Guitar and Gear – What He Uses
Over the years in his music career, Tom DeLonge has used several gears. Nonetheless, below are some that stand out. 
1. Gibson ES-333 
Most Notable Instrument That DeLonge Has Played in His Career
Manufactured by Gibson Guitar Corporation, the ES-333 is the most notable instrument that Delonge has played in his career. One of its distinctive characteristics is the semi-hollow design, which is common in classical guitars from the company. 
DeLonge Collaborated with Gibson to Design the ES-333
In 2002, DeLonge collaborated with Gibson to design the ES-333, inspired by the ES-335. DeLonge, at that time, was with Box Car Racer. Since its official introduction in 2003, DeLonge has been seen sporting different colors and designs of the guitar. 
Comes with a Satin Finish
The Gibson ES-333 comes with a thin satin finish. Additionally, its body is made of arched and laminated wood. More so, it has maple laminations in both the interior and exterior. Meanwhile, the neck is made of mahogany, and the fingerboard is bound rosewood. 
Equipped with Black Speed Knobs for Quick Adjustments
Another notable characteristic of the Gibson ES-333 is that it does not have a pickguard or a pickup cover. Meanwhile, it has black speed knobs for quick adjustments depending on the user's preference. 
In the early years of the ES-333, DeLonge will often be seen playing with a striped version of the guitar. However, he stopped using such a design except for the brown and white. Most of the time, DeLonge was spotted with a solid black or white guitar version. 
2. Gibson Les Paul Standard
DeLonge Used Les Paul Standard for Recording Sessions and Tours
During some of his recording sessions, DeLonge has also been seen playing with a custom Les Paul Standard. Some of the instances he used were during the recording of Enema of the State, Dude Ranch, and Feeling This. To add, it also showed up in his numerous tours from 1997 to 1999.
DeLonge Made Several Modifications
DeLonge has made several modifications to the Les Paul Standard to make it his version. Most of the knobs and switches were removed. Instead, they were replaced with a single volume knob and one pickup switch. It resulted in a seamless and straightforward design of the guitar.
Available in Different Versions
Today, the Les Paul Standard is available in different versions, including those that other artists inspired. For instance, you will find those inspired by the guitars used by:
Adam Jones
Dave Amato
Lucas Nelson
Lee Roy Parnell 
Get the Gibson Les Paul Standard Used by DeLonge in Reverb
Are you interested in buying the exact Gibson Les Paul Standard used by DeLonge? Well, last time we checked, it is available in Reverb. As we expect, it comes with a hefty price.
This is the same guitar he used while recording and playing live for Blink 182. It even comes with a custom Anvil Road case and the rainbow strap DeLonge has been known for. 
3. Fender Baritone Jazzmaster 
DeLonge Used a Baritone Jazzmaster Tailored to His Needs and Preferences
Fender is one name that will surely ring a bell in the global market for guitars. Even DeLonge knows that the company has commendable products. Hence, at one point in his career, he was also seen using the Baritone Jazzmaster, specifically a version tailored to his needs and preferences.
Design Was Specific to Low-range Notes
As a baritone, it is a six-scale guitar with a longer scale and heavier strings. The design was specific to low-range notes.
Equipped with a Single Humbucker
The Baritone Jazzmaster that DeLonge used had the same custom features as his other guitars. One of the most notable features is the single humbucker, which you will find on the bridge. This humbucker is the Seymour Duncan Invader. More so, the guitar features a single-volume knob.
DeLonge Used This Guitar for Recording the Blink 182's Down and Obvious
One instance when DeLonge used this guitar was during the recording of Blink 182's Down and Obvious. It was also seen during his 2003 tours. 
4. Fender Telecaster
With the popularity of Fender in the guitar world, it is no surprise that DeLonge used several models from the company, including Telecaster. He used this while tracking the song The War of Angels & Airwaves. 
One of the many things Telecaster is known for is its alder body. It is a tonewood that delivers a great bite. More so, it has a snappy sound. Plus, it has one volume tone control, a feature that DeLonge seems to love in his guitars. 
5. Fender Stratocaster 
Has a Modern C-shaped Neck
Like the Telecaster, the Stratocaster is another well-loved electric guitar from Fender. Millions of players have played it worldwide, and DeLonge was no exception. Meanwhile, the neck has a modern C shape with a maple construction. 
Expensive But a Worthy Investment
We found a Fender Stratocaster from DeLonge for sale in Reverb. As with his other guitars, it is expensive, but it is a worthy investment if you are a fan and have the means to splurge.
Has an S-style Body with Blue Finish
A part of the Fender Artist Series, the Stratocaster DeLonge used has an S-style body with a Daphne blue finish, maple neck, glossy finish, and rosewood fretboard. 
Again, what guitars does Tom DeLonge use? The guitarist of Blink-182, Angels and Airwaves, and Box Car Racer, Tom DeLonge's signature guitar is the Gibson Tom DeLonge Signature ES-333. This guitar features a Gibson Dirty Fingers humbucker and one volume knob.
6. Taylor 814CE
One of the Most Popular Acoustic Guitar DeLonge Played
While it is more common to see DeLonge using an electric guitar, he also uses acoustic guitars. Among others, one of the most popular he has played is the Taylor 814CE, which appeared in many of his live shows and videos in the past.
Has a Sitka Spruce Top
A flagship acoustic guitar from Taylor, the 814CE has a Sitka spruce top while the sides and back are Indian rosewood. More so, the fretboard is West African Crelicam ebony, and the neck is tropical mahogany.
Has an Innovative Behind-the-saddle Design
One of the most notable features of this acoustic guitar is the Expression System 2. It is an innovative behind-the-saddle design mainly responsible for the guitar's dynamic amplification. 
7. Guild D55 
On several occasions, DeLonge also used the Guild D55 as his acoustic guitar, especially in some of his 2010 shows. With its balanced and powerful sound, it is undoubtedly a fantastic guitar. Unsurprisingly, it is also expensive. 
The melodic character of the guitar is unrivaled. It also has an eye-catching design. The latter is possible because of its spruce top, which gives it a woody and warm appeal. On the other hand, the back and sides are made of Indian rosewood. 
8. Seymour Duncan Invader Pickup
Pickup Is One of the Most Critical Components of an Electric Guitar
While it is often overlooked, the pickup is one of the most critical components of an electric guitar. It is responsible for the conversion of string vibrations into electricity. Different pickups will generate different tones, so it is crucial to pick the right one.
DeLonge Experimented with Many Pickups Throughout His Career
In the case of DeLonge, he has experimented with various pickups throughout his career, and one that is often seen is the Seymour Duncan Invader Pickup.
Seymour Duncan Invader Pickup Has Overwound Coils
Adding this pickup will change the DNA of the guitar, breathing new life into your music. It has overwound coils and three large ceramic magnets, primarily responsible for the pickup's impressive power.
The magnets are notable for adding clarity and depth to the music that a guitar generates. 
9. Gibson Dirty Fingers Humbucker Pickup
One of DeLonge's Most Famous Guitars
Gibson is one of DeLonge's most famous guitars. No wonder he also uses the pickup from the same company.
Loud and Unapologetic
The Dirty Fingers Humbucker is the pickup with the highest output from Gibson, so its power and performance are unquestionable. It is loud and unapologetic, perfect for a legend like DeLonge.
Hand-made in California
One of the things people love about this pickup is that it is hand-made in California. This means that the manufacturer paid attention even to minor details. It was created by master crafters using premium materials, so you can expect that its performance is second to none. 
10. Marshall JCM900 Amp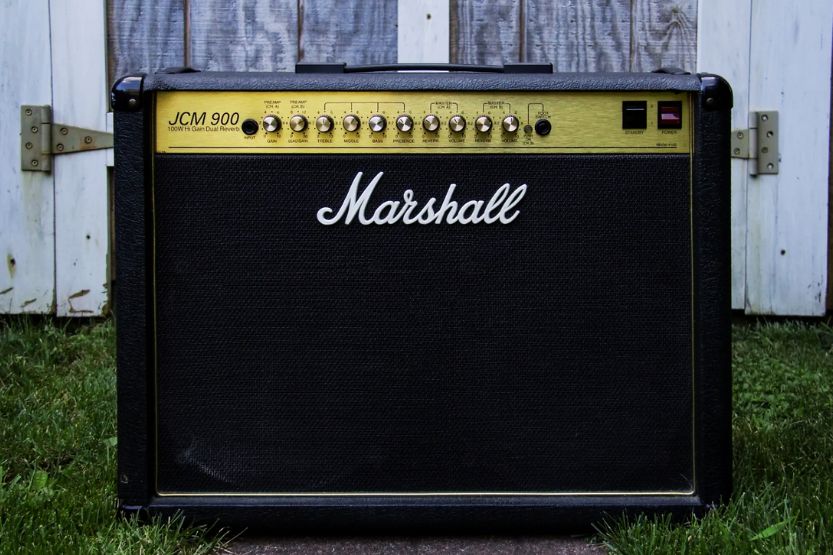 It is impossible to talk about the gears of Tom DeLonge without mentioning the amp he is using. While he used several throughout his career, one of the most notable is the Marshall JCM900. The brand name alone will already give you an idea of the performance that it can deliver. 
The Marshall JCM900 is a two-channel dual-reverb amplifier with a maximum output of 100 watts. It has multiple effects loops and true bypass operation, making it an excellent choice for musicians during live performances. 
11. Mesa/Boogie Triple Rectifier 
In all the songs of Blink 182 until 2005, the Mesa/Boogie Triple Rectifier is DeLonge's choice of an amp. It has distorted tones, which is also one of the critical elements that you will find in the band's songs. 
So, what's so special about this amp that it has been well-loved not only by DeLonge but by other musicians as well? It has 150 watts of power, making it a beast. It also offers eight selectable modes, providing plenty of options for customization. Fine-tuning the sound is effortless. 
12. Ernie Ball Guitar Strap 
Wrapping up our list is technically not equipment, but it deserves mention. One thing that makes DeLonge instantly recognizable is his rainbow guitar strap from Ernie Ball. It is a two-inch wide strap with polypropylene webbing. 
Other artists were known for sporting Ernie ball straps, although not necessarily the rainbow design. Other company musicians who showed off straps include Paul McCartney, Eric Clapton, Billy Joe Armstrong, John Mayer, and Brun Mars. 
Frequently Asked Questions – Music Equipment of Ton DeLonge
What Guitar Does Tom Delonge Use? 
Throughout his career in different bands, Tom DeLonge used a variety of electric guitars, and one of the most popular was the Gibson ES-333.
On several occasions, including live shows and recordings, he was also seen playing with:
Gibson Les Paul Standard,
Fender Baritone,
Fender Telecaster, and
Fender Stratocaster, among others. 
Meanwhile, he also used several acoustic guitars, including the Taylor 814CE and Guild D55.
What Pickup Does Tom Delonge Use? 
Tom DeLonge used Seymour Duncan Invader and Gibson Dirty Fingers Humbucker pickups. They were vital in the conversion of string vibrations into electricity. Hence, they have a massive role in the guitar's musicality. 
In Closing – Tom DeLonge Guitar and Gear – What He Uses 
Fans of Tom DeLonge are often curious about the instruments he uses to achieve his kind of music. While you can see him most of the time sporting an electric guitar, he also used acoustic guitars.
Here is a quick rundown of some of the most popular guitars he used in live shows and recordings throughout his music career: 
Gibson ES-333
Gibson Les Paul Standard 
Fender Baritone Jazzmaster 
Fender Telecaster 
Fender Stratocaster 
Taylor 814CE
Guild D55 
DeLonge is equally picky with his other gears, such as his amps. The Marshall JCM900 and Mesa/Boogie Triple Rectifier are two of the most popular.
Meanwhile, for the pickups, DeLonge was a fan of Seymour Duncan Invader and Gibson Dirty Fingers Humbucker. More so, he was also recognizable for his rainbow guitar strap, which is from Ernie Ball.