With today's modern technology, there are smartphones and smart TVs. If there ever were a smart piano, it would be the Yamaha Disklavier Enspire Pro Hybrid Piano. It is a piano that has so much to offer technology-wise. Take a look at the features and specs of this amazing piano.
The Disklavier Series is Yamaha's line for their Hybrid Series. It is a sophisticated, reproducing piano system. Plus, it can record and playback with the best resolution compared to other hybrid pianos. Lastly, it uses AccuPlay Technology to monitor keys, pedals, and hammers to interpret every detail in real-time.
Read on to learn more about the Yamaha Disklavier Enspire Pro Hybrid Piano, its specifications and features, and much more.
About the Yamaha Disklavier Enspire Pro Hybrid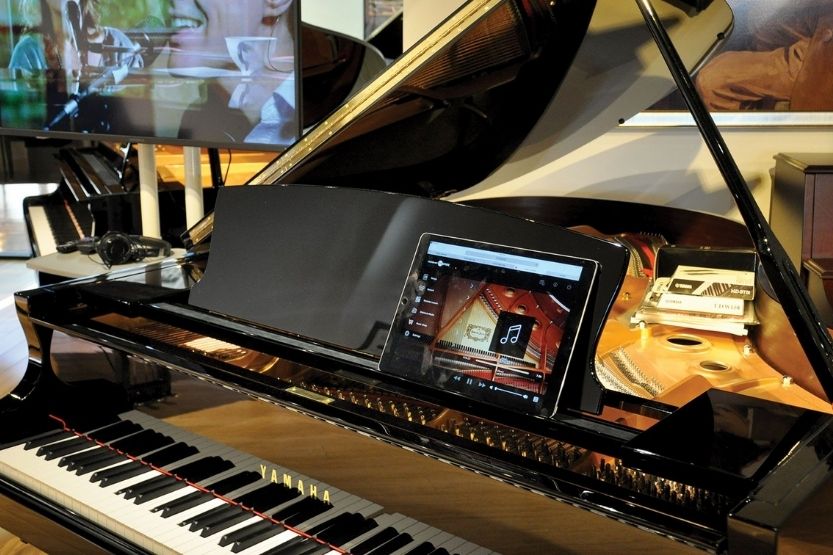 Yamaha has been making pianos for over a hundred years. Their brand is known for its superior tone quality, which makes them a top preference for professional musicians, music teachers, composers, and many more.
Today, they have taken their pianos to a different level with the creation of their hybrid line. Hybrid pianos are a blending of a traditional acoustic piano with digital features.
Enspire Pro Hybrid Models
The Enspire Pro Hybrid Piano has 11 models you can choose from, all of which have many features to offer. These models are:
DCFX ENPRO
DCF6 ENPRO
DCF4 ENPRO
DS7X ENPRO
DS6X ENPRO
DS5X ENPRO
DS3X ENPRO
DC7X ENPRO
DC6X ENPRO
DC5X ENPRO
DC3X ENPRO
The DC7X ENPRO, DC6X ENPRO, DC5X ENPRO, DC3X ENPRO are available in the following colors:
Satin Ebony,
Satin American Walnut,
Polished White,
Mahogany, and
Polished Ebony.
Combination of Acoustics with Digital technology
The Yamaha Disklavier Enspire Pro Hybrid combines acoustic and digital to create a natural feeling and superior sound. The subtle release of the keys, the beautiful resonance of the soundboard, frame, and rim work together to create beautiful music.
Solid Blueprint of Innovation
Showing how it has innovated through the years, Yamaha showcases the ENPRO Hybrid models that balance the traditional crafting of pianos and commitment to advanced technology. The Yamaha Hybrid Pianos have completely redefined what pianos are capable of doing.
Features of the Disklavier Enspire Pro Hybrid Piano
Mentioning the features of the Disklavier Enspire Pro Hybrid Piano is not an easy task – not because there aren't any, but because it is such an amazing piano with so many features, and I don't know where to begin!
Here's the list of the features of the Disklavier Pro Hybrid Piano:
1. True Reproduction
The Yamaha Disklavier Enspire Pro Hybrid Piano can recreate much more detail compared to other player pianos. It can fully reproduce every nuance of a performance. It can capture even how a player releases each key, which is vital to delivering a musical message.
Most other piano player systems only have predetermined programming to capture the release of the piano keys, which isn't as accurate as the Yamaha Disklavier Enspire Pro Hybrid Piano. The piano has the AccuPlay DSP technology, which can interpret every musical detail and then recreate it with precision for playback.
2. Beautiful Accoustics
The piano has beautiful acoustics and an elegant and stylish finish, which is the signature Yamaha look. It has a control panel that lets you have tactile control while playing.
3. Capability for Wireless Network Connection
The Yamaha Disklavier Enspire Pro Hybrid piano has many unique capabilities that will require a network connection. The seamless compatibility of the piano to wireless network connection allows that access to its digital features.
4. 500 Songs Built-in
You will get access to 500 built-in songs plus thousands of more performances that are downloadable to your piano. You may choose from classical pieces, jazz, rock, pop, or whatever you feel like listening to.
5. Access to Exclusive Enspire Performances
You'll get access to performances that were done specifically for Disklavier Enspire. Listen to these performances by well-known, award-winning Yamaha musicians such as:
Sarah McLachlan,
Bob James, and
Jamie Cullum.
What's more, the piano can recreate an exact portrayal of the intentions of these artists.
6. Radio Services for Streaming
Making it an amazing instrument, on top of the built-in 500 songs, you also get access to Yamaha Piano Radio. This feature lets you stream on over 30 channels, available to you 24 hours!
7. Recording and Playback with High-Resolution
Thanks to the superior optical sensors of the Disklavier Enspire Pro Hybrid, the instrument can capture the nuanced movement of all the keys, pedals, and hammers. This ability enables it to precisely reproduce the hammer's speed when it strikes the key, the tiniest detail of stepping on the pedals, and the finest movements of releasing the keys.
Recording and playback with high-resolution make it able to capture and reproduce up to 1024 levels of velocity for keys and hammer plus 256 pedaling movements.
8. Precise Recording Functions
Credited to its precise recording functions, studying recorded performances becomes very easy for teachers and students to learn. The instrument also lets you archive your performances.
9. Silent Piano Feature
Built into each ENPRO model is Yamaha's technology, SILENT Piano. This feature allows you to listen and play silently to avoid disturbing others and focus more on your music.
Again, what does the Yamaha Disklavier Enspire Pro Hybrid Piano offer? The Yamaha Disklavier Enspire Pro Hybrid records and playbacks in the highest resolution compared to other hybrid pianos. Plus, it is equipped with AccuPlay Technology.
Specs of the Yamaha Disklavier Enspire Pro Hybrid Piano
The following are the specifications for the Yamaha Disklavier Enspire Pro Hybrid Piano :
Width: DS5X, DS3X, DC3X, and DC5X (148 cm), DCFX (151 cm), DS6X and the DC6X (154 cm), DS7X and the DC7X (155 cm), DCF6 (159 cm), DCFX (160 cm)
Height: DCFX, DC56, and DCF4 (103 cm), D57X, D56X, DC7X, and DC6X (102 cm), DS5X, DS3X, DC5X and DC3X (101 cm)
Depth:

DCFX (275 cm)

, DCF6 and DC6X (212 cm), DCF4 (191 cm), DS7X and DC7X (227 cm), DS5X (200 cm), DS3X (186 cm), DC5X and DC3X (149 cm)
Piano Silencing Mechanism for all models
500 Built-in Songs (380 piano solo songs, 72 instrumental songs, 48 audio-backing songs)
Has compatible data formats for MP3, WAV, and SMF
All models are capable of recording
All models are USB Flash Memory storage compatible
Has streaming for radio with over 30 channels
Capable of damper and pedal movement reproduction
Has 1024 levels of keying velocity and the same number of key release velocity
Has 256 levels of incremental pedaling
For playback, there are 48 XG Voices plus 12 drum kits
History of Yamaha Disklavier
Cristofori Came up With the Idea of Using Hammers and Keys
The piano goes back 300 years ago when Bartolomeo Cristofori came up with the idea of switching the plucking action of a harpsichord to using hammers and keys.
Solenoid-based System Was Added in the 70s
Later on, in the 70s, the solenoid-based system was added to the piano to eliminate or lessen noise from the piano's mechanisms. Soon after, in 1987, Yamaha developed and upgraded that concept to come up with the Disklavier reproducing piano.
Origin of the Word Disklavier
The word Disklavier comes from the words disk and Klavier, which is the German term for keyboard. The Disklavier is the combination of the traditional acoustic piano plus the technology of recording and playing back.
Over the years, the Disklavier has evolved and gotten better. However, the Disklavier system has always been available as a built-in system for pianos and cannot be retrofitted for other pianos.
MX100A
The very first model of the Disklavier was called the MX100A with a control unit in the cabinet. The MX100A was, in fact, a U1 upright with the Disklavier System. The Wagon Grand, Mark II, and Mark IIXG were also models that had the Disklavier System.
Disklavier PRO
In 1998, the Disklavier PRO was introduced to the market. This was the very first Disklavier model that could reproduce the full range of dynamics with high resolution.
E3 Disklavier
In 2006, Yamaha showcased the first generation E3 Disklavier in the U1 Upright, C2, and small grand pianos.
E3 Standard and Pro Models
In 2012, Yamaha came out with the standard and PRO models of the E3. The standard model was used on the C2 and small grand pianos, while the PRO model was used for larger pianos.
Disklavier TV
The Disklavier TV was introduced around the same time as the standard, and PRO versions came out. Disklavier TV runs on the technology of Remote Live. This lets you stream videos live and archive data just by connecting to the internet and a computer.
CX Series
Later on, the CX series came out, grand pianos with thicker back frames that resulted in richer tones.
Disklavier ENSPIRE Series
The Disklavier ENSPIRE series is now the flagship of Yamaha for their hybrid pianos.
Conclusion: Yamaha Disklavier Enspire Pro Hybrid Piano Specs and Reviews
The Yamaha Disklavier Enspire Pro Hybrid Piano is more than just a player piano with a system that offers much more than other player pianos.
Its versatility is unparalleled. You can turn your home into a concert venue. Or it can be an instrument for music education in schools. Others use it for music production in recording studios. Indeed, it's a piano that will work well with every pianist.
The Disklavier Series is Yamaha's Hybrid line. The Yamaha Disklavier Enspire Pro is a reproducing piano that can record and playback with high-resolution. With its AccuPlay Technology, every single detail can be interpreted in real-time.
The Silent Piano feature lets you play without disturbing anyone. It has 500 built-in songs that you can choose from. The Disklavier Enspire Pro Hybrid also comes in 11 models. This instrument lives up to its brand's tagline – Making Waves.
Related reading:
Everett Piano Specs and Review
Yamaha Grand Pianos [Specs and Review]
Yamaha GB1K Baby Grand Piano Specs and Review