Yamaha hybrid pianos take away the painful task of choosing between acoustic pianos and digital pianos. In this Yamaha hybrid pianos review, I'll list all of the key specs and features and pros and cons, so you can decide if it's the right hybrid piano for you.
Yamaha hybrid pianos perfectly showcase the brand's commitment to the different advanced technologies while still applying its old-world craftsmanship. Yamaha's latest innovations, like Disklavier, SILENT, and TransAcoustic, have helped expand what pianos can do. With a hybrid piano, every artist is free to create and compose music you've never heard before.
Here's a list of Yamaha hybrid pianos:
Yamaha Disklavier
Yamaha TransAcoustic
Yamaha SILENT Pianos
Yamaha AvantGrand Pianos
Read on to learn more about Yamaha hybrid pianos, including their main features, specs, and pros and cons.
About the Yamaha Hybrid Pianos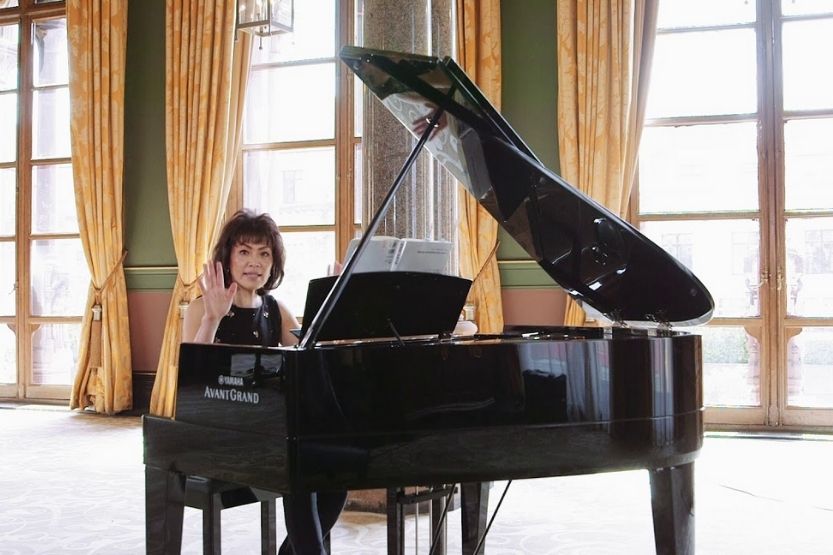 Acoustic Piano vs Digital Piano
As the name suggests, a hybrid piano is a fusion of two instruments: acoustic piano and digital piano. The biggest difference between the two is how they produce sound:
A digital piano, which doesn't have strings, electronically creates sound by either using synthesized imitation or recorded samples taken from acoustic pianos.
Fun fact: The term "hybrid piano" is new. However, the practice of combining the important features of acoustic pianos and digital pianos has been around for more than two decades.
How Does a Hybrid Piano Exactly Work?
In most hybrid pianos, their hammers are fitted with sensors that activate a sampled piano sound instead of recording samples through MIDI (a computer language connecting devices to create and control sound). Every manufacturer sample various sounds. In the case of Yamaha, they get their samples from the Yamaha CFIII Concert Grand Piano.
Hybrid pianos typically have high-quality, built-in speakers to project the sampled piano sound. The AvantGrand N3X hybrid piano has a total of 12 high-end speakers, each with an amplifier.
Yamaha Hybrid Pianos
Yamaha is unquestionably one of the top manufacturers of this new category of pianos. Let's get to know their line of hybrids:
1. Yamaha Disklavier
The Disklavier is a reproducing or self-playing piano. Meaning, it can record (to internal memory or a USB memory device) and replay whatever piece you play.
Yamaha is well aware that there are no two piano players who are the same. That's why, for the Disklavier, they developed various systems to show people's individuality in every performance:
Optical Sensor System
The Disklavier is the only reproducing hybrid piano capable of measuring both the attack and release of keys. The Optical Sensor System interprets, measures, and captures how each person presses and releases every key and the slight movement of the hammer and pedal.
AccuPlay Technology
Then, there's the AccuPlay Technology that monitors the mechanical parts of a piano (keys, hammers, pedals, and solenoids) in real-time and makes necessary adjustments to get each note right.
Other Features
Connects to your computer, home stereo, and WiFi network
Plays videos through your Apple TV or iPad
Streams all of your favorite music from the internet to your hybrid piano
Already comes with more than 500 songs
Control the piano through your electronic device, like your smart phone and tablet
Plays with your headphones (DGC1E3S and above)
2 USB ports to play MIDI and WAV files
2. Yamaha TransAcoustic
TransAcoustic™ technology
Yamaha uses the TransAcoustic™ technology to make their pianos act like a loudspeaker by transferring digital sound into the soundboard. The result is a natural and rich sound that's unique to an acoustic piano, with the special ability to adjust the volume level of the instrument.
Uses Transducers
The TransAcoustic™ technology doesn't depend on built-in speakers to bring digital sounds to life. Instead, it uses transducers to transform the digital sound into vibrations before transmitting it into the soundboard. The soundboard magnifies the unique vibrations of the instrument to add depth and warmth to your every performance.
Other Features
Equipped with Yamaha's renowned Optical Sensor System and SILENT Piano™ technology
19 pre-installed digital voices for different genres of music
Connects to your audio, Bluetooth®-enabled, and MIDI devices for broadcasting, live sound, or recording
Works well with computers and digital mixing boards
Again, what do the Yamaha hybrid pianos offer? The Yamaha Hybrid Pianos are a combination of advanced technologies and Yamaha's old-world craftsmanship. Pianists can create and compose music they've never heard before with a hybrid piano, including Disklavier, SILENT, and TransAcoustic.
3. Yamaha SILENT Pianos
Yamaha SILENT™ hybrid pianos are available in two versions: grand and upright. You'll also find this feature in most Yamaha acoustic piano models, such as the Baby Grands, B Series, U Series, and CX Series.
Silent™ Piano Technology
The Silent™ piano technology allows you to enjoy playing your hybrid piano silently using headphones for as long as you want. When your Yamaha hybrid piano is in quiet mode, the hammers don't strike the strings. Instead, sensors pick up all of the movements of each key, which are then converted into a MIDI signal.
The signal is sent to an electronic sound module, which lets you play with your headphones on.
4. Yamaha AvantGrand Pianos™
Yamaha first introduced the AvantGrand Pianos™ in 2009. Since then, the product line grew and consisted of the following:
Different models of baby grand pianos (the N3, which is the predecessor of the N3X),
Vertical grand pianos (the N2 and N1X, which replaced the N1), and
An upright piano (NU1X, which replaced the NU1).
Spatial Acoustic Sampling Process
Using their proprietary Spatial Acoustic Sampling process, Yamaha painstakingly took samples from four positions on a soundboard (left, right, center, and back). The result: the AvantGrand can produce its remarkable grand piano sound.
AvantGrand NX3
With the AvantGrand NX3, you have the luxury of choosing between two world-class grand pianos: the Yamaha CFX concert grand or Imperial Bösendorfer. Switching between the two is as simple as touching a button.
Sensor
The AvantGrand N3X also comes with a sensor that causes the piano hammers to hit the strings from below. This allows little changes to the movement and weight distribution of the hammers, so you can experience a more authentic feel while playing.
Pros and Cons of Yamaha Hybrid Pianos
Going hybrid might or might not be for you. So, before you get one of these pianos, consider these pros and cons first:
Yamaha Hybrid Pianos – Pros
1. Two Piano Types in One
Both acoustic pianos and digital pianos have their advantages and disadvantages. While high-end digital pianos offer you a wide variety of instrument sounds and the latest sound technology, they still struggle to mimic the sound of real acoustic pianos. That's why, if you want the best of both worlds, hybrid pianos are a good in-between option.
2. No Tuning Needed
Hybrid pianos don't need tuning even after using them for a long time. Sure, they have some of the components of a traditional acoustic piano, like the hammers. However, they don't have a traditional soundboard or strings, which require regular tuning. Instead, Yamaha hybrid piano models, such as the AvantGrand series, use a proprietary sensor system to replicate the sound of some of Yamaha's world-renowned pianos.
3. Less Expensive than Grand Pianos
Hybrid pianos are typically cheaper than traditional grand pianos. Entry-level Yamaha hybrid pianos have prices starting at less than $6,000. But if you want a show-stopping model, like the AvantGrand N3X, be prepared to spend around $15,000 or more, depending on the retailer.
And since hybrids don't need tuning, you can save more money. On average, tuning a grand piano would cost anywhere between $65 and $225. The price could still go up if your piano needs multiple tuning sessions or repairs.
4. Practice Without Being a Nuisance
If you live in an apartment building or have roommates, it's always a struggle to practice or enjoy performing on a piano without disturbing them. One of the great things about a Yamaha hybrid is you can keep playing it through headphones. You can also control the volume to suit your needs. It does all of these things without compromising the rich sound of the piano.
5. Offers Good Value
Most pianos would depreciate by as much as 78% in the first year alone. But pianos from more established manufacturers, such as Bösendorfer, Fazioli, Steinway, and Yamaha, would usually keep their original value because of the quality of their design, built, and performance.
Yamaha Hybrid Pianos – Cons
More Expensive than Digital Pianos
Yamaha hybrid pianos are more affordable than the brand's line of acoustic grand pianos. However, they're still more expensive than digital pianos.
For instance, the suggested retail price of the N2 AvantGrand hybrid piano is $15,499, while the NU1X costs between $7,999 and $8,199. Meanwhile, the Yamaha P-45 digital piano costs around $549.99. The Yamaha Clavinova CLP-745 digital piano (upright) costs around $3,699.99, depending on the retailer.
Not Easily Moved by Yourself
If you need something portable or easy to move around your home, a hybrid piano might not be for you. Most hybrid pianos weigh around half of the weight of acoustic grand pianos, so you most likely need other people to move them.
To give you an idea, baby grand pianos could weigh as much as 600 pounds (272 kilograms). A 9-foot concert grand piano could weigh a whopping 1,100 pounds (around 498 kilograms).
Meanwhile, the Yamaha N1 weighs about 265 pounds (120.5 kilograms). The Yamaha NU1X weighs about 240 pounds (111 kilograms).
Conclusion – Yamaha Hybrid Pianos
Yamaha has always been known for its high-quality and long-lasting musical instruments at a price point that's hard to beat. Their hybrid pianos (Disklavier, TransAcoustic, SILENT Pianos, and AvantGrand series) are no exceptions. So, if ever you're on the market for a hybrid piano, they're absolutely worth the investment.
Related reading:
Everett Piano Specs and Review
Yamaha Grand Pianos [Specs and Review]
Yamaha GB1K Baby Grand Piano Specs and Review