If you are looking for an affordable and space-saving piano, Yamaha is one brand that should be on the top of your list. Their upright pianos are some of the finest in the world. In this Yamaha upright pianos review, I will talk about their most popular models and notable features, so you can decide if this is the right upright piano for you. 
The Yamaha upright pianos are beautiful, affordable, and high-quality. They reproduce rich and resonant tones, setting high standards in the competitive landscape. The company has skilled craftsmen who make each piano using time-honored techniques blended with modern innovations. These pianos are available in the following categories: 
U Series 
YUS Series 
B Series 
P Series 
Gallery Collection 
Read on to learn more about Yamaha upright pianos, including some of their best-selling models, as well as their pros and cons.
About the Yamaha Upright Pianos 
Yamaha's introduction of their first upright piano in the 1900s has been a revolution, setting the standard high for the competition. Even after a century, the company continues to be a pillar in the industry. Year after year, Yamaha has introduced innovations that will make pianos better than they have ever been.
With a rich and resonant tone, the Yamaha upright pianos are favorites of many people. Whether it is amongst students or seasoned pianists, Yamaha is one of the most reputable brands. Since 1967, the company has sold over four million upright pianos, showing how the company is one of the best globally. 
Different Types of the Yamaha Upright Pianos 
Before I give you a rundown of some of the company's well-loved upright pianos, you should know they exist in different categories. Below is a quick look at the five main types: 
1. U Series
Considered the most popular upright piano globally, this is a great choice if you are looking for a safe bet. From its precision to responsiveness, it has a long list of benefits. More so, it uses hand-selected fine spruce, which gives it a top-notch quality. 
2. YUS Series
It shares many features with the CF pianos from Yamaha. From the concert-quality hammer to hand-wound strings, it has meticulous components. As a result, it will offer a grand experience that you will hardly find in other upright pianos. 
3. B Series
A compact but elegant piano, it is a joy to play. Whether you are a budding musician or an accomplished pianist, you will love the forward-thinking design of this piano. 
4. P Series
Despite being a mid-range model, it has high quality. It has an exceptional tonal reproduction, which is one thing that you can also find in other Yamaha pianos. Additionally, it has exquisite cabinetry that makes the aesthetic stand out. 
5. Gallery Collection
With designs drawing inspiration from 19th-century Europe, these are some of the most beautiful pianos from Yamaha. It is almost impossible to take your eyes off them. The best thing is that they deliver exceptional performance. 
The Best Yamaha Upright Pianos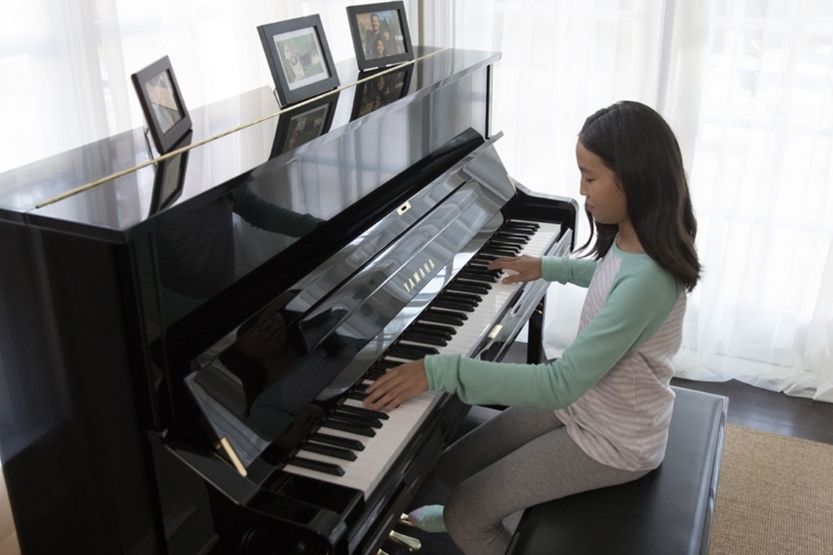 With the long list of options for Yamaha upright pianos, deciding what to buy isn't easy. Below, we look at the most popular models, as well as their features:
1. Yamaha U1 Upright Piano 
Like the other pianos from Yamaha, this model reflects the state-of-the-art design and meticulous construction that Japan has always been known for. Amongst others, its sound is one thing that makes it stand out. You can expect robust, rich, versatile, and resonant harmony in this upright piano. 
While you can use it for different genres, the piano does best in jazz and classical music. More so, it is also known for its precision. Plus, it isn't too light or heavy, which means it is easy to play. With such, it will make a good choice for beginners. It is a great model that can help you pick up the basic techniques and improve over time. 
Features
Aluminum Action Rail: A patented technology developed by Yamaha, it ensures that the keyboard resists tiny fluctuations. As a result, it is not easily prone to the impact of temperature and humidity. 
V-Pro Frame: The frame of this piano has a Vacuum Shield Mold. The latter is a casting innovation that is common in Yamaha pianos. It makes the frame lightweight without compromising its strength.
Soft-Close Fallboard: The same feature that you will find in the high-end grand pianos from Yamaha, the fallboard won't drop abruptly. In turn, it will prevent injuries when you are playing.
Specs
Main Material: Seasoned spruce 
Bridge: Hard maple 
Soundboard: Spruce 
Pedals: Soft, mute, and damper 
Weight: 503 pounds 
Height: 48 inches 
Length: 24 inches 
Width: 60 inches 
2. Yamaha YUS5 Upright Piano 
A piano inspired by the U series is known for having exceptional strings and hammers. They redefine the industry standards. Nonetheless, while it packs state-of-the-art innovations, it is expensive. That said, this isn't the best option if you are on a budget. It is impossible not to fall in flow with this piano with a delicate balance and rich sound. 
Features
Solid Spruce Soundboard: A common feature that you will also find in other Yamaha pianos, it uses only top-notch spruce. It is unlike its cheaper counterparts that use laminated poplar and spruce. 
Premium Hammer Felt: The hammer felt that comes with this piano delivers concert quality. Even when you are playing at home, you will feel that you are in a concert. It is a great way to boost your confidence while also enhancing the sound quality. 
Sostenuto Pedal: Pianos with the sostenuto pedal are capable of selective sustain. The pedal is responsible for holding down the notes that you would like to sustain. Nonetheless, doing so will not affect the other notes. 
Specs
Main Material: Spruce 
Bridge: Hard maple 
Soundboard: Spruce 
Pedals: Soft, mute, and damper 
Weight: 502 pounds 
Height: 48 inches 
Length: 24 inches 
Width: 60 inches 
Again, what does the Yamaha Upright Pianos offer? Apart from being beautiful, affordable, and high-quality, the Yamaha upright pianos can produce rich, resonant tones. Its craftsmen made each piano using time-honored techniques combined with modern innovations.
3. Yamaha B1 Upright Piano 
If budget is your concern, then this is the right option for you. It is the most affordable of the upright pianos from Yamaha. Being economical, however, does not mean that it is the most inferior in terms of performance. It has a clear and rich sound while also being responsive. The latter makes it easy to play, especially if you are a beginner. 
Features
Highly Responsive Touch: This is also one of the reasons why we recommend this upright piano for beginners. The keyboards are light and responsive to the touch. What this means is that its playability will never be a problem. 
Laminated Soundboard: Most of the Yamaha B series upright pianos have a solid soundboard. B1, on the other hand, has a laminated soundboard. It is also one of the reasons why it is affordable.
Produced in Indonesia: While the scale design was developed in Japan, the piano itself was made in Indonesia. The latter allowed the company to significantly lower the production costs, making this upright piano affordable. 
Specs
Hammer Type: B Series Official 
Caster: No 
Number of Back Post: 4 
Pedals: Damper, muffler, soft
Weight: 384 pounds 
Height: 43 inches 
Depth: 21.3 inches 
Width: 58.3 inches 
4. Yamaha P22 Upright Piano
If there is one thing that made it popular, it is the fact that it is ideal for daily use. It is a common choice for music schools as it can withstand everyday playing. Aside from its durable construction, it is also well-loved because of its exceptional tonal reproduction and responsive keys, making it another notable option for novices. 
Features
Under Felt Hammer: The hammer construction is slightly different from what you will find in higher-end Yamaha pianos. Its felt weighs 14 pounds. More so, the felt adds a soft layer between the tonal felt and hammer core, resulting in longer life. 
Five Back Posts: Aside from the five back posts, the piano also comes with a tuning harp. With this, you can expect that it will be great in terms of its tonal stability. It is also one reason why it makes a great pick for a church piano. 
Double Vinyl Wheels: Moving this piano around is effortless. You don't need heavy lifting. Instead, it will roll smoothly on different surfaces. Such is possible because of the double casters, which are made of vinyl. 
Specs
Hammer Type: P22 Special 
Caster: Double 
Number of Back Post: 5
Pedals: Damper, muffler, soft
Weight: 518 pounds 
Height: 45.75 inches 
Depth: 24 inches 
Width: 59.5 inches 
5. Yamaha M560 Upright Piano 
This vertical piano is another option that should be on your radar, especially because of its affordability. It has a hand-rubbed finish that gives it unrivaled aesthetics. More than its design, it is also impressive because of its musical integrity and tuning stability, which are surprising given that this piano is designed for novices. 
Features
Acoustibars: Expect excellent acoustics with the piano bars. The latter will ensure the depth of every sound that the piano generates. It means that even if it is a cheap piano, the output quality is impeccable. 
Solid Spruce Soundboard: A common feature that you will find in other Yamaha pianos, the choice of wood is incredible. Not only that it looks good, but it is also harmonically rich while delivering optimum amplification. 
V-Pro Frame: The Vacuum Shield Mold frame is another technology that you will find in Yamaha upright pianos, not just in this model. It is responsible for creating a long-lasting and appealing frame. 
Specs
Hammer Weight: 19 pounds
Tuning Pins: Cut thread 
Soundboard: Solid spruce 
Pedals: Soft, mute, damper
Weight: 475 pounds 
Height: 44 inches 
Length: 21 inches 
Width: 58 inches 
Conclusion: Yamaha Upright Pianos 
Whether it is for beginners or experts, for your home or conservatory, the Yamaha upright pianos are amongst the best in the world. It has five main categories, each reflective of the superior craftsmanship that Yamaha is known for. From beginners to an expert, an upright piano is sure to deliver the highest level of satisfaction. 
The Yamaha upright pianos share many common characteristics across its different categories. For instance, they have:
V-pro frame,
Spruce soundboards,
Bass strings, and
Aluminum action rail.
Regardless of the specific model that you choose, they are all impressive. 
Read next: