Looking for a baby grand piano? There has been an increase in popularity for grand pianos in homes, but not all homes can accommodate the full size of the instrument. Thus, the baby grand piano came to be. The Yamaha GB1K is Yamaha's smallest and most affordable baby grand piano. Is it the one for you? Let's take a look.
The Yamaha GB1K is Yamaha's smallest baby grand piano at 5'. It is also the best-selling piano in the USA. Despite its size, it has top-of-the-line quality and richness of sound that Yamaha always guarantees. The GB1K has an advanced scale design and is perfect as a starter piano. The price starts at $15,299.
Read on to learn more about the Yamaha GB1K, its features and specs, and why it is a good choice for beginners.
About the Yamaha GB1K Baby Grand Piano
Grand pianos started 300 years ago, played in salons and house concerts, ranging from 6 to 8 feet in size. Later on, they became even bigger at 9 to 10 feet when used in concert halls. They became trendy, and many people wanted them in their homes, but the size became a problem.
Baby grand pianos were later produced with shorter strings and a smaller soundboard but definitely not compromising the sound. Yamaha has been making quality pianos for decades, and the GB1K might be the one for you. Let's take a closer look.
The Yamaha GB1K, with a length of 5', is Yamaha's smallest baby grand piano. It is also America's best-selling piano. Though it is small, it has top-of-the-line quality and richness of sound that Yamaha always guarantees. The GB1K has an advanced scale design and is perfect as a starter piano.
The Yamaha history began when Torakusu Yamaha, its founder, in 1887 repaired a reed organ. He then created his own reed organ, which became a huge success. Over 130 years later, the company has been known globally for making quality pianos and other instruments.
Yamaha GB1K Baby Grand Piano Features
The Yamaha GB1K did not become America's best-selling baby grand piano without good reasons. The instrument's features played a major role in this. Here are the GB1K's features:
1. Designed by Yamaha in Japan and Crafted in Indonesia
The GB1K was designed in Japan by Yamaha and is being produced in Indonesia. The instrument is affordable because labor in Indonesia is less costly than in the US. That does not mean that the GB1K sacrificed quality because Yamaha sees that every piece is well-built and meets all their standards.
2. Soundboard and Soundboard Ribs Made from Spruce
Spruce is an excellent material for soundboards as it responds well to playing the piano subtly or aggressively. Spruce also resonates well with many kinds of tones.
3. V-Pro Vacuum Shield Mold Process Frame
Yamaha patented the V-Pro casting in the late 70s. The frame is made with a special membrane, and then a vacuum process sucks iron into the mold to create a precise finish that is sturdy and durable.
4. Merkus Pine Back Posts
Merkus Pine is a sturdy wood that is good for making piano back posts. It is widely available in Indonesia, where the GB1K is made.
5. White Keys Made with Acrypet
Acrypet is the trademark of Polymethyl Methacrylate or PMMA. The material has superior weatherability and surface hardness that ensures your keys will last a long time.
6. Black Keys Made with Phenolic Resin
Phenolic resins are versatile polymers that are durable. Yamaha uses these resins for their piano's black keys so that no matter how hard you strike them, they can withstand the pressure and won't break or crack.
7. Soft Close Fallboard
The soft-close fallboard was originally only used in grand pianos. The GB1K, however, has this feature that prevents the fallboard from closing quickly onto the keyboard, lessening the chances of damage to the piano and injury to the musician.
8. 5-year Warranty
Yamaha will give you a 5-year warranty on your brand new GB1K. This covers defects in materials or artistry within the period of warranty. The warranty will not cover damage or malfunction due to accidents, negligence, or abuse. If the GB1K is repaired by anyone other than an authorized Yamaha technician, it will void the warranty.
Yamaha GB1K Specs
The following are the specs for the GB1K:
Key surfaces: White: Acrypet resin, Black: Phenolic resin
Length: 5' or 151 cm.
Width: 57" or 146cm.
Height: 39" or 99cm.
Music desk positions: 5
Lid prop positions: 2
Lid edge: Square
Center Pedal: Bass Sustain
Cabinet: Polished Ebony, Polished American Walnut, Polished Mahogany, Georgian Mahogany, French Provincial Cherry
Again, what does the Yamaha GB1K grand piano offer? At 5′, the Yamaha GB1K grand piano is the smallest baby grand piano. Despite its size, it has the top-of-the-line quality and richness of sound suitable as a starter piano. Its price starts at $15,299.
Why the GB1K Is a Good Starter Piano?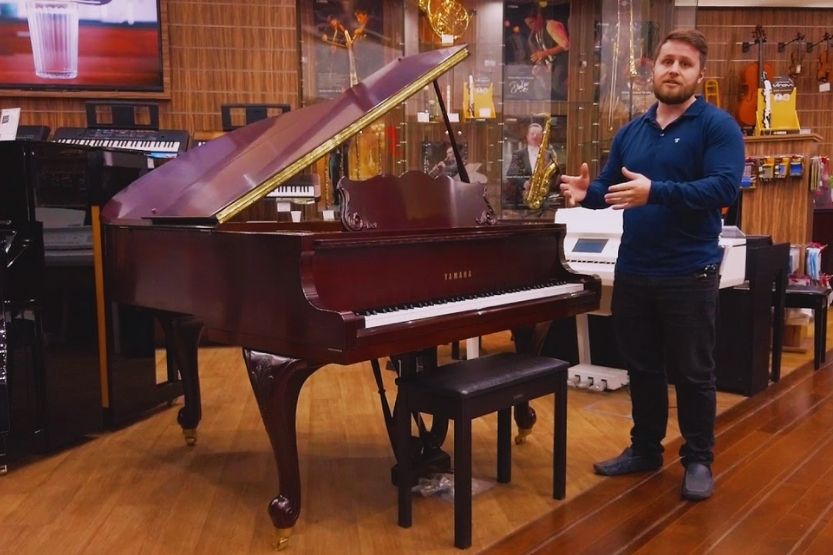 1. Great Playing Experience
The feel of the keys makes a huge difference. They're lightweight and have an outstanding ratio of strength to weight. The keys give a fast response making repetition quite effortless.
2. Amazing Sound
The solid soundboard of the GB1K is from the finest spruces. This makes the sound totally rich and incredible. Pianos that use lower quality material won't compare with the sound of the GB1K. Spruce offers maximum amplification and good quality tone, and sustain.
The crown of the soundboard also contributes to the richness of the sound. The GB1K has reinforcement with its full-length ribs up to the edge of the soundboard. And, for superior transfer of vibration, the ribs are glued to the notched liner. All of these steps ensure outstanding quality of tone and sonic depth that will last for generations.
3. Affordability
The GB1K is so reasonably priced that even beginners can afford it. As we mentioned earlier, the piano is made in Indonesia, where labor is cheaper than in the US.
4. Compact
The Yamaha GB1K is Yamaha's most compact baby grand piano. It works perfectly when space is limited. Although diminutive in size, the GB1K has full resonant tones that compete with substantially larger models.
Yamaha's Promise of Excellence
Yamaha has made outstanding musical instruments, not only pianos, for a very long time now. When you buy a Yamaha, know that you're getting an instrument of precision and quality, including the Yamaha GB1K:
A Century of Excellent Piano Making
Pianos express an instrument maker's art where beauty and musical range can be showcased. Yamaha has over a hundred years of expertise in instrument making. With that, the name Yamaha has been tied with excellence and superiority, including in piano making.
Crafted with Care and Integrity
Yamaha has played an important role in music and the performing arts. They have been renowned for their reliable performance and quality, and value. Piano teachers and technicians have, in the past, up to the present, consistently recommended the brand to their students, clients, and fellow musicians.
Yamaha's reputation has been based on a century-long tradition and their consistent and uncompromising care and craftsmanship with integrated expertise, a skilled and dedicated workforce, and excellent production facilities. They are known globally, and many have the brand as a first choice.
Yamaha pianos have come to represent the utmost standard of affordable excellence. For this reason, the Yamaha GB1K has become the best-selling baby grand piano all over the US.
Conclusion: Yamaha GB1k Baby Grand Piano Specs and Review
Is the Yamaha GB1K the piano for you? If you're a beginner piano player, the GB1K is a good place to start. It will fit in small spaces and is affordable. The baby grand is also aesthetically pleasing.
The Yamaha GB1K is Yamaha's smallest offering in the baby grand piano category. It is 5 feet in length. Despite its size, it carries the trademark top-of-the-line quality and richness of sound that Yamaha always guarantees. It has been awarded as the number 1 selling baby grand piano in the US with a starting price of $15,299.
If you're interested in purchasing a Yamaha GB1K, you can test play one at a Yamaha authorized store with locations all over the country.
Related reading:
Everett Piano Specs and Review
Yamaha Grand Pianos [Specs and Review]
Yamaha Hybrid Pianos [Specs and Review]